A PDF file enables its users to put their images, graphs, links, multimedia, text, bookmarks and many other diversified elements into one document, the way PDF assigns the layout and formatting, just make it possible that the information can be presented as exactly as PDF users expect. That's no wonder, so many people use PDFs so often.
PDF is powerful, however, it has its own small disadvantages. Among these weaknesses, the top 1 goes to "how to change PDF to Word", in particular "to retain the same formatting when changing PDF to Word". Keep reading, and you will come to know, "pdf to word on mac" without losing format" is not that tricky.
Methods that Beginners are Likely to Try, But Need to Re-format

Convert PDF to Word may be a quite new problem for you that just appeared in recent days, and you might racket your brains to fix it. For beginners, it is greatly likely they will try as following to shoot the problem.
Copying &Pasting
Only works when the PDF file is copyable and short in length. Even you are allowed to copy and paste, you still have to waste a lot of time on adjusting the formatting you copied from the original PDF.
Retyping
Only works when you have a great patience in typewriting and it is short in length. It just consumes time……
Yet, these 2 methods are too limited and really help little when talking about efficiency. Especially, you need to re-do the work on formatting yourself. We need other solutions that make us an expert on this.
How to Change PDF to Word on Mac without Losing Format?
Method #1 Cisdem PDFMaster
(Apply to PDFs with Simple&Complicated Layout, Small&Large Size, Less&Higher Sensitive Information, Even Copying&Printing Restrictions)
You can directly convert your PDFs into Word Doc with desktop Converters. When talking about the conversion quality and versatility in function, desktop pdf to word converter for mac is better choice.
Here is the one I highly recommend you to try, Cisdem PDFMaster. It helps users to reproduce an accurate Word version with same layout, including images, tables and columns as the original. It supports batch conversion, yields quick results, even is able to convert those PDFs with copying and printing restrictions. Moreover, it offers multiple functions to work on a PDF file: create, edit, compress, merge, split, encrypt, decrypt.
Now, have a try.
Step 1. Download and install PDFMaster.

Free Download
Step 2. Launch PDFMaster, go to PDF Convert module.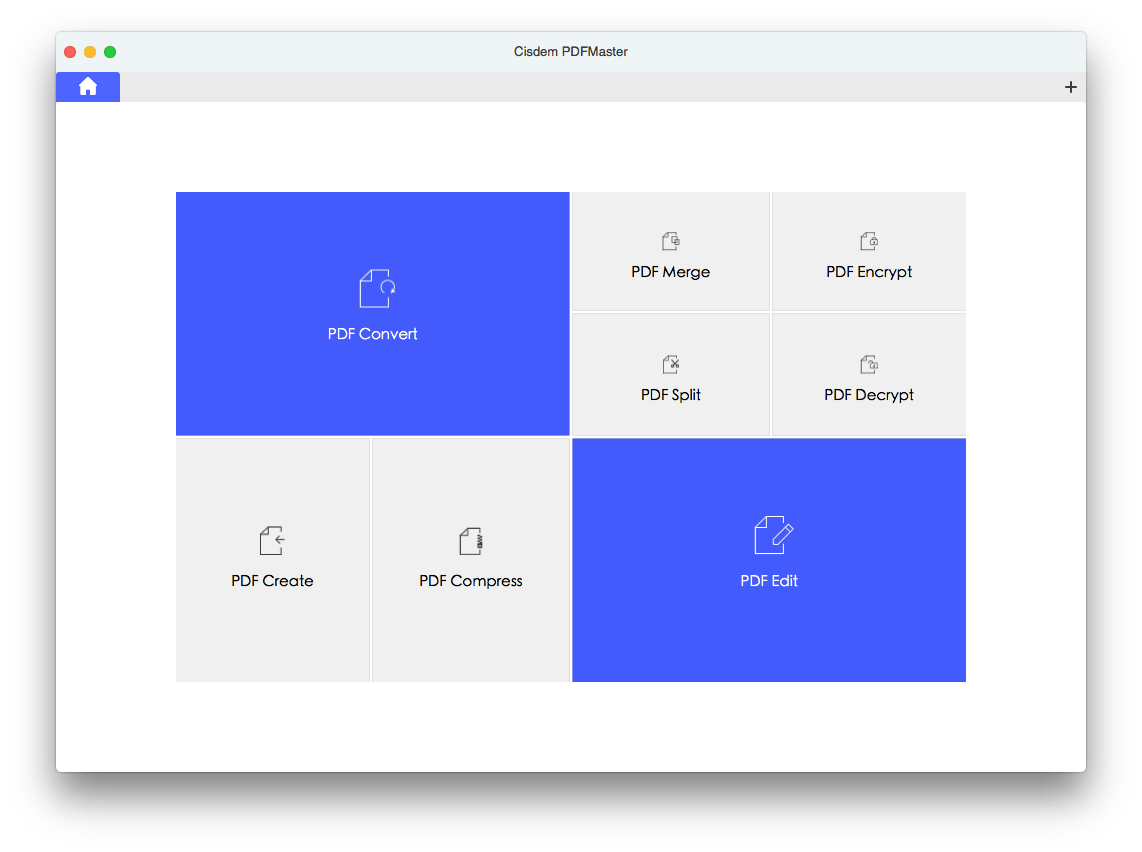 Step 3. Drag and drop them to PDFMaster. You can upload up to 200 PDF files each time.
Step 4. Select all pages or a page range, choose output as Docx.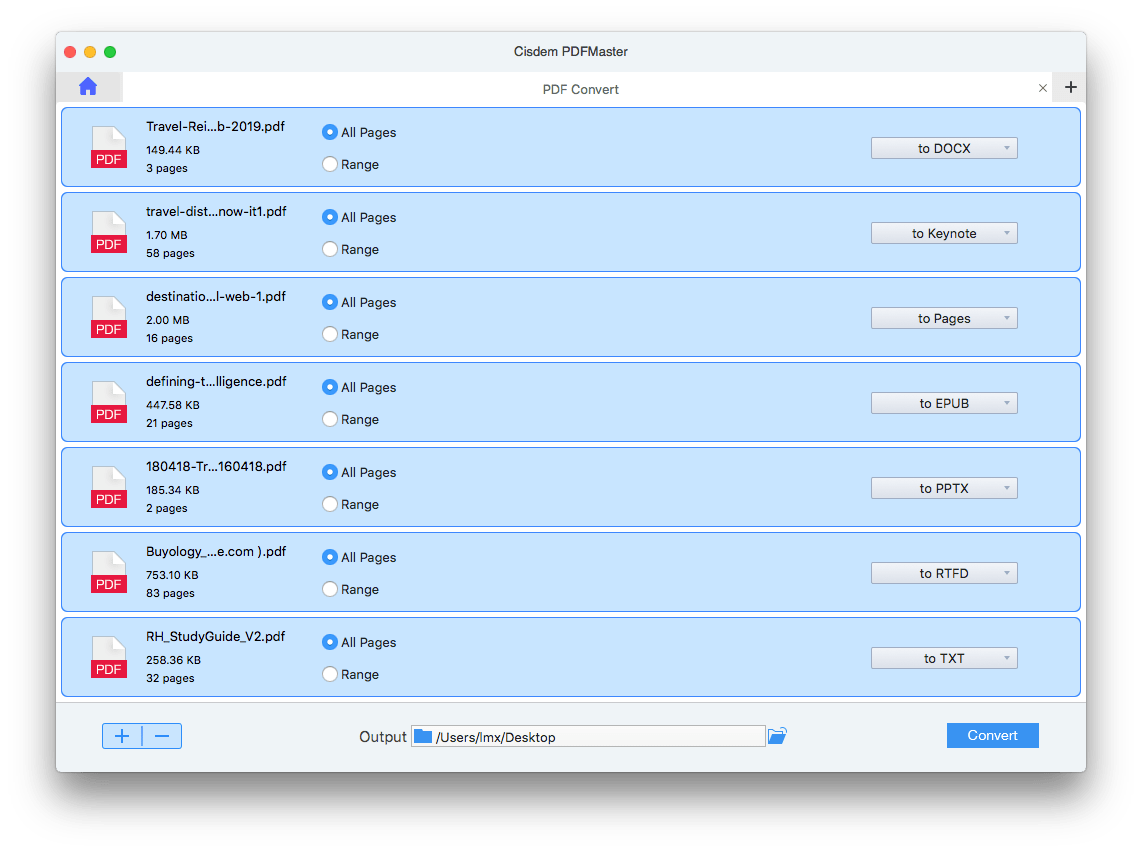 Step 5. Click Convert button to change PDF file to Word format on Mac.
With several clicks, a Word doc will be created and you have the PDF converted to Word.
If there is a lock icon appearing with the imported PDF, it means the PDF is password-protected. For PDFs protected with an owner password from editing, printing and copying, Cisdem PDFMaster will directly decrypt the PDF and convert to Word. For those PDFs protected by open password from opening, just click on the lock icon and enter into your password to continue the conversion process.
Method #2 Online PDF to Word Converter
(Apply to PDFs with Simple Layout, Small Size, Less Sensitive Information)
Several online PDF to Word Converters, indeed, contribute a lot and outstandingly on the conversion. They are characteristic of high quality conversion, fast and batch conversion. Like ZAMZAR, and here I am going to show you how to use it for the conversion.
Go to ZAMZAR and you will get an interface as following: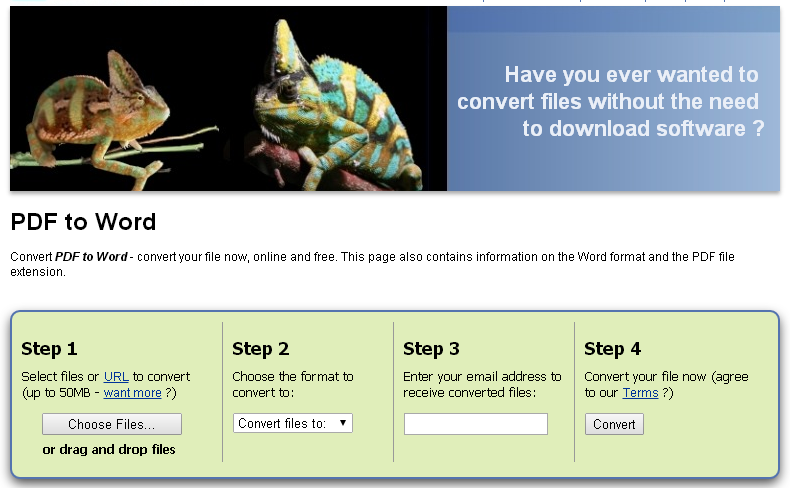 Follow the steps as it display on its main interface.
Make sure you submit the right email address, download the converted Word document once get the download link in your email box.
Quite easy, and quite understandable why these free online converters are going so viral these days! Yet, as I pointed at the very beginning, ZAMZAR works perfectly when you are working with simply formatting PDFs. Besides, it has a size limit(total 50M) and you may receive spam since you need to submit the email address to get a download link……
Final Words
PDF and Word format, both works as the most frequently used file format, have their advantages and disadvantage in one way or another, which makes the conversion between them grow. Like many others, I prefer to a professional tool, Cisdem PDFMaster to do the work for me. Though the service is paid, I am paid back more with less time and efforts consumed, even with no PDF formatting sacrificed. So, which one is better for you to change PDF to Word on mac, try and find it out.