We deal with data everyday and it is much likely that we run into the dilemma of data loss. If you are not new to this issue, you must have realized that if there is no file backup, the lost data is lost forever, unless you turn to a piece of data recovery software.
When speaking of Mac data recovery software, there are so many choices and most of us feel confused to pick the appropriate one. For this reason, we list the top 12 (also the frequently-recommended ones on Internet) Data Recovery for Mac and test for you so you can make a wise decision on your own.
Quick Review
Before Installing a Mac Data Recovery Software
Before you have made your decision to try on a piece of mac data recovery software, you should be aware of following basics:
Don't add any new data to the hard drive where you want to recover files.
When the files are deleted or formatted, you just lose the portal to access to the files, but the files still exist before new data is written to the hard drive or storage devices you are trying to recover data from. Even, you are not recommended to install the data recovery software on this drive.
No Guarantee on 100% data recovery.
There are various reasons leading to the data loss, in addition, factors such as encryption, secure erase, file corruption, hard drive damage, etc., will prevent the data recovery software from retrieving files successfully, regardless of how good the data recovery it is. Even a file is restored, it is not 100% sure that the file can be opened and edited properly.
Recovery Results differ.
Different mac data recovery will get back different recovery results, also different recovery modes within a data recovery software will vary depending on the algorithm. Even the recovered files will come with a new name, and you will need to preview before recovery.
Top 12 Mac Data Recovery Software 2023
The Criteria
To choose qualified best data recovery software for Mac, we take following factors into our considerations:
Safety---The software itself is safe to use and using of this program won't cause further data loss
Ease to use---The program should have a user-friendly interface and doesn't require high on learning curve, all the recoveries can be done intuitively;
File & Device Support---The data recovery tool should support all kinds of file systems (HFS+, FAT16, FAT32, exFAT, etc) and be capable of recovering various file types (photos, videos, audios, documents, archives, etc) from different internal or external storage devices
Speed---The file scanning and recovering speed should be fast and smooth before draining our patience.
Recovery Rate---A data recovery may dig out as many files as it can even we don't expect, and the higher the recovery rate, the more chances we get to find the deleted or lost files back.
Validity of Recovered Files---The ultimate purpose of data recovery is re-opening and re-using the file. If the recovered file can be opened/edited or not, this matters a lot.
Based on the above 6 factors for selecting best Mac data recovery software, here is a list of top 12 mac data recovery software.
#1 Cisdem Data Recovery---Best for Photo/Video/Docs Recovery
The reason why Cisdem Data Recovery on the top 12 list is mainly due to its excellent performance to recover photos, videos and documents on mac.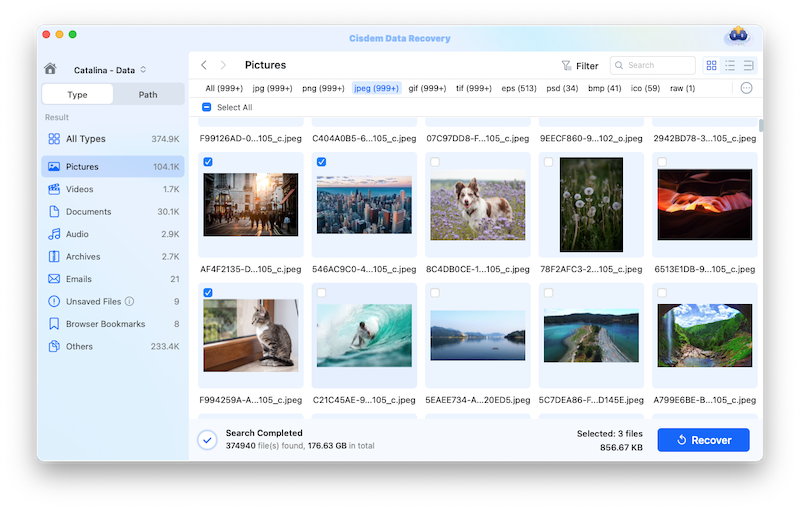 The greatest problem to recover media files or documents is that we cannot open them at all after the recovery, especially the media files, we often run into a corruption. But Cisdem works outstanding on this, you cannot only find and recover such types of files, but also allowed to open or edit for further usage after the recovery. In addition, this excellent feature isn't confined to work on mac internal hard drive, but also continues on different external storage devices, such as SD card, cameras, USB, etc. In other words, what Cisdem recovers for you are validate and usable.
Speaking of the documents recovery, Cisdem has an excellent support on virtually all popular types: PDF, Word, Excel, PowerPoint, Keynote, Pages, Numbers, Text, Mobi, CHM, XML, etc. Even, it supports fixing corrupted videos, you just need to import one or more damaged videos, Cisdem will repair them all quickly.
Best Video/Photo/Docs Recovery for Mac
Support various types of file, file system and storage device
Apply to different data loss situations
Repair corrupted or unplayable videos
Fast scanning and recovery
Preview files before recovery
Search files fast with filter tool
Recover files to local drive or cloud platforms
Recovered files can be opened and edited

Free Download
#2 DiskWarrior---Best for Damaged/Corrupted HD Recovery
The price tag ($119.95) of DiskWarrior can easily put users away, but it is indeed a super powerful Mac data recovery software that works excellently on recovering files from damaged or corrupted HD. Working as an useful hardware maintenance tool, DiskWarrior is able to repair and rebuild the damaged or corrupted directories, which makes it possible to recover your files. Also, it can detect and monitor errors on your hard drives, even fix the errors before the hard drive goes to be damaged or corrupted.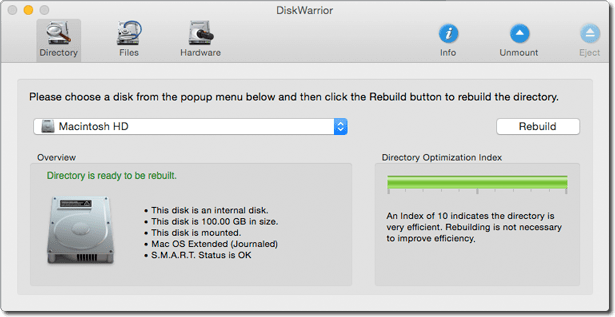 Main Features
Recover documents, photos, audios and other files
Recover files from damaged or corrupted hard drives
Repair disk drives
Detect disk drive errors and fix up
#3 Data Rescue 5---Best for Formatted Data Recovery
Comparing with its performance to recover files from damaged or corrupted hard drives, Data Rescue 5 does much better on recovering formatted data from both Solid-state drive and hard disk drive. Most of its competitors just missed lots of files in the formatted drive, but Data Rescue found and brought the files in front of you. In my test, Data Rescue helped to get back 90% of formatted files and other 3% were files deleted long time before the formatting. In addition, Data Rescue does a better job to recover documents than that on recovering media files, since 30% of the recovered media files cannot be opened.

Main Features
Recovery photos, videos, audios, documents, archives, etc
Recover from Mac, HDD, SSD, SD Card and other external drives
Fast find formatted files with Search feature
Exclude duplicate files
Clone data to a hard drive with better performance
#4 Stellar Phoenix Mac Data Recovery---Best for Recovering Files in Original Names
When scanning and recovering files with a mac data recovery tool, you may notice that the names for found files are quite weird, most of the names are newly created by the program instead of the original ones. And this may stop users from finding the wanted files fast, they will need to preview each file and select for recovery. While, if the data recovery program doesn't build in a preview feature, users will have to recover all files then manually find out the preferred one. It is lucky that Stellar Phoenix Mac Data Recovery can preserve the original file names as much as possible.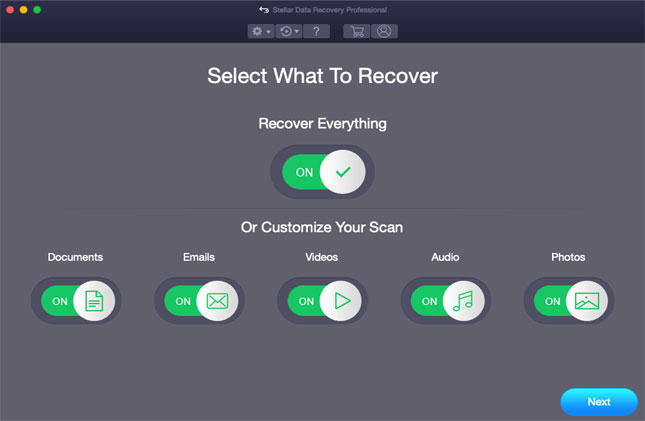 Main Features
Recover photos, documents, videos, audios, emails, etc
Recovery from SSDs, lost volumes, corrupt drive, unmounted USBs
Specify file types for smart scanning
Monitor drive health and clone disk
#5 Disk Drill---Best for Hard Disk Drive Recovery
Disk Drill is a mac data recovery program with rich features. It not only allows users to recover deleted or formatted files from various internal and external devices, but also helps to monitor disk health, clean mac, find duplicates, protect and even back up data on your mac. Speaking of the recovery capability, Disk Drill performs much better to recover files on hard disk drive than that on a solid state disk, since more files can be found and recovered, though the scanning time spent on the hard disk drive is much longer than that on a solid state disk. Disk Drill also offers a free version, but its limit to recover no less than 500M just decreases the chances for a satisfactory recovery.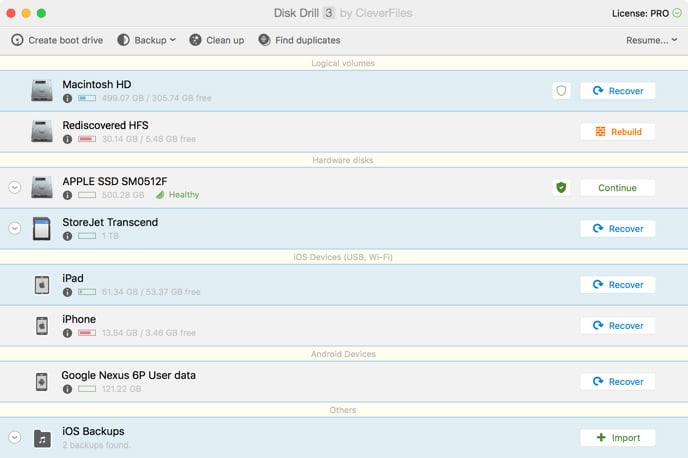 Main Features
Recover photos, videos, documents and other files
Recover from internal or external storage devices
Allow to backup, clean, find& recover duplicates, protect data on Mac
Allow previewing before recovery
#6 MiniTool Mac Data Recovery---Best for Partition Recovery
A part of mac users have partitioned their mac hard drives into separate drive for different backup purposes. And MiniTool Mac Data Recovery is a great tool to recover files from partitions. There are 4 recovery modes, including Undelete Recovery, Damaged Partition Recovery, Lost Partition Recovery and Digital Media Recovery. No matter you want to recover files from a damaged partition, or a lost partition, MiniTool works. Even, this tool can scan files both on current and past partitions, which allows you to recover some data you never expect to get back.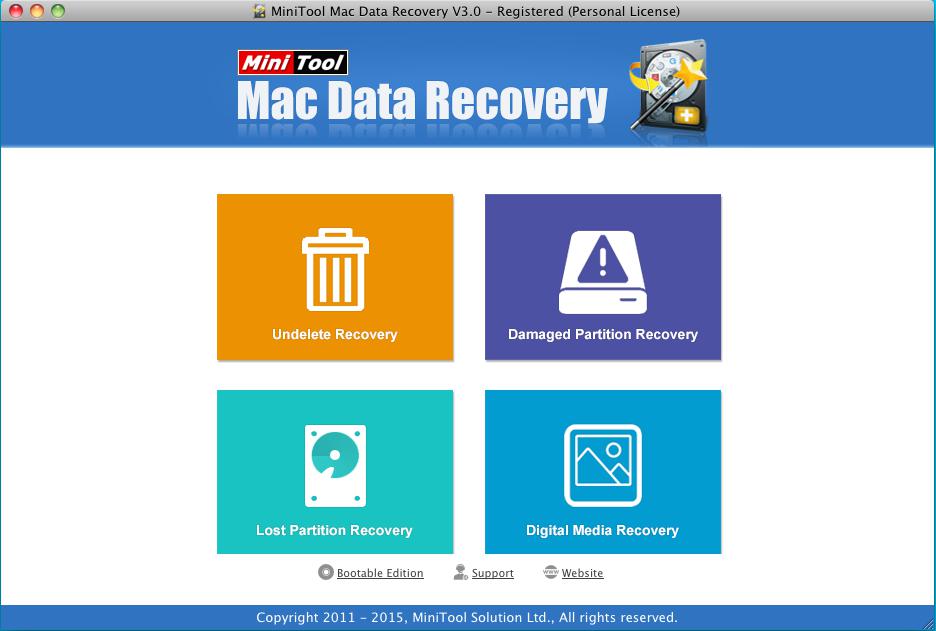 Main Features
Recover files lost under different situations: formatting, sudden power off, deletion, inaccessible camera cards, etc
Recover from damage or lost partition
Recover documents, media files, archives, emails and others
Recover from internal or external storage devices
#7 Remo Recover Pro---Best for Photo Recovery from SD Card
Alike, Remo Recover is designed to recover document, videos, audios, photos and other files from internal or external storage devices. But it does a better job on recovering images. In the test, it managed to recover approx. 92% photos from the deleted or lost images, and nearly all the recovered photos work properly in the end. But you are recommended to do photo recovery with program from memory cards which are smaller in capacity, since it takes so long time for Remo to scan a large-capacity hard drive or other storage device.
Main Feature
Recover photos, videos, audios, documents and other files
Recover from emptied trash on macOS extended volumes
Recover deleted, formatted, lost, deleted partition/volumes data
Preview files before recovery
#8 EaseUS Data Recovery Wizard---Best for Deleted Data Recovery
When looking for feedbacks from EaseUS users on different platforms, lots of users gave more credits to its backup solutions and complained the ineffectiveness for using its data recovery software. So I tested this program and found the overall performance of this tool was on the average level, but it did relatively good on deleted data recovery. For files that deleted permanently on Mac, EaseUS helped me to recover about 90% files, but for files that lost on a damaged or corrupted hard drive, the result fell far short from my expectations, even the scanning time just took forever.

Main Features
Recover videos, audios, images, documents and other files
Recover deleted and formatted files from internal or external storage devices
Preview files before recovery
#9 Wondershare Recoverit ---Best for USB Data Recovery
Actually, Recoverit data recovery performs quite mediocre in recovering files from mac hard drive or external storage devices, but does a good job on USB data recovery. Your USB data may be lost due to accidental deletion, formatting or virus infection, no matter for which reason, Recoverit can find nearly all lost files in your USB flash drive and get them back. Also, the scanning and recovering process is fast.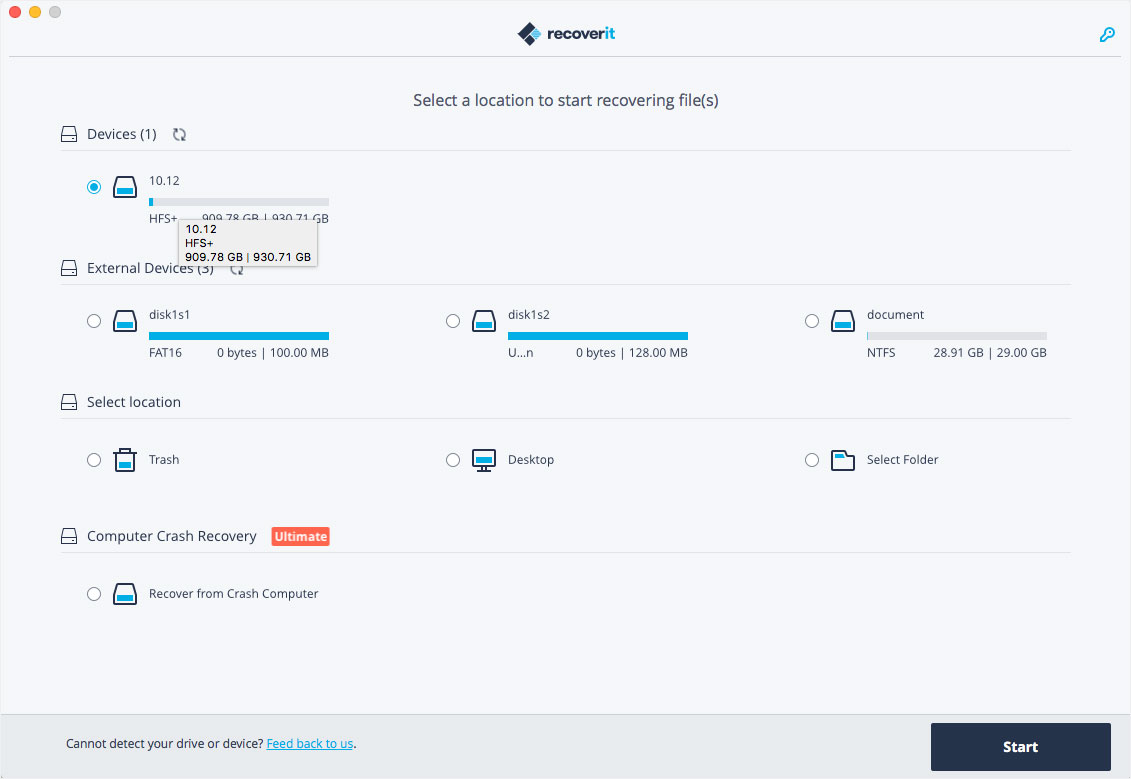 Main Features
Offers 8 recovery modes
Recover 550 data formats (photos, videos, audios, documents, etc)
Recover from internal or external storage devices
Allow previewing files before recovery
#10 Softtote Data Recovery---Best for FAT/NTFS Recovery
Softtote supports to recover data in 3 modes: file recovery, photo recovery, lost partition recovery. According to users' feedback and my own testing, Softtote does do a good job on recovering lost partition in FAT and NTFS file systems, most of the recovered files from FAT or NTFS can be opened. However, Softote has a limit on supporting recovering files from exFAT, ext2/3/4, or APFS. Still, it is the one on the top list that support the least file types.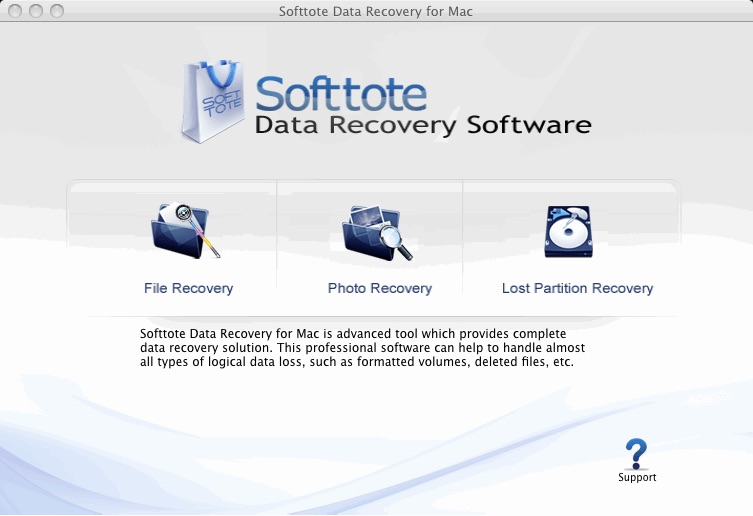 Main Features
Recover photos, music and videos
Recover from lost partition, internal and external storage devices
Preview files before recovery
#11 Mac Data Recovery Guru---Best Recovery for Beginners
In fact, Mac Data Recovery Guru hasn't done any updates for more than 2 years, and the reason why it is still on the top list due to its extreme simplicity to recover files on mac. With several clicks, you can start the scanning and recovery on the same interface. It doesn't offer too many options but users can process the recovery intuitively. There is no Preview feature, but users can refer to the thumbnail picture to check if they are recovering the wanted files.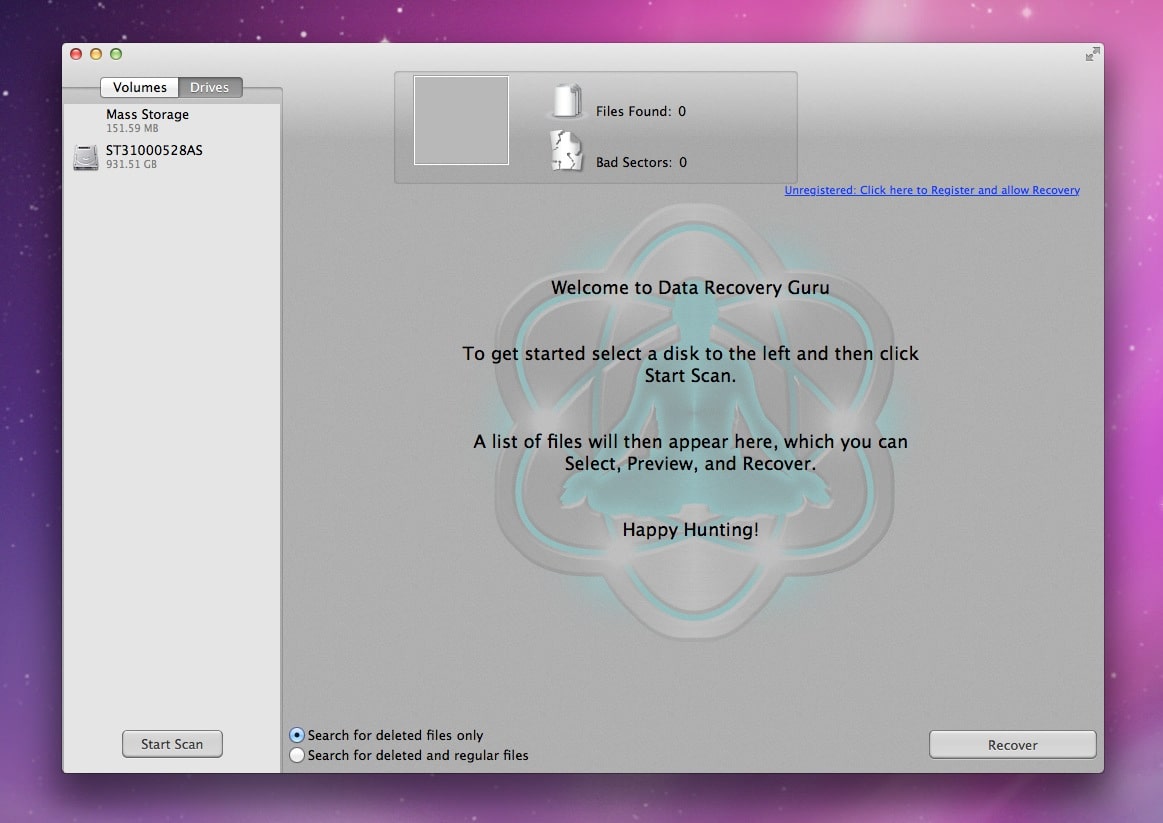 Main Features
Recover photos, videos, audios, documents, emails, etc
Recovery from different internal and external disk drive, Android phones
#12 PhotoRec for Mac---Best for Free Photo Recovery
According to the name, PhotoRec is a dedicated tool to recover photos on mac. Also, it charges nothing and makes it the best choice to do photo recovery for free. In fact, PhotoRec cannot only recover photos, but also restore videos, documents, archives and others from hard drives, memory cards, USB flash drive etc.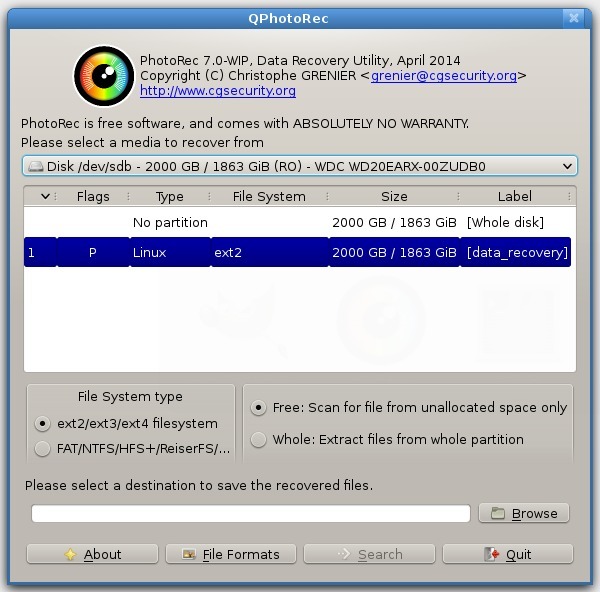 Main Features
Recover photos, videos, documents, archives on mac
Recover files from internal or external storage devices
Conclusion
As you may have realized, the answer to "what is the best mac data recovery software" is not always the same for different users who have different requirements. The best one is always the one that can perfectly solve your problems. So, what do you care about the most when recovering data on Mac, and which one is your best mac data recovery software from this top list?